Lodging
Room Block is Filled at the Greenbrier Resort.
Alternative Lodging Options (approx. 7 miles away): No Room Block
Fairfield Inn & Suite 304-645-7999
Hampton Inn 304-645-7300
Holiday Inn Express 304-645-5750
* * * * * * * * *
Guest rooms have been reserved for attendees and their guests at The Greenbrier. In order to receive the group rate, reservations must be made before the room block is filled or before the expiration date of July 1, 2019, whichever comes first. To secure the group rate, please specify you are with the Mayo Success With Failure conference.
The Greenbrier
300 West Main Street
White Sulphur Springs, WV 24986
(844) 837-2466
Room Rate: $239
Check in time at The Greenbrier is 4:00 PM and check out time is 11:00 AM. In the event rooms are not available upon arrival or a guest stays on property after checking out, all recreational, dining and beverage facilities will be available to guests at published Hotel rates. For every third or fourth adult occupant in a guestroom, an additional $50.00 per night will apply.
RESORT FEE
The following services and amenities are included in The Greenbrier's daily Resort Fee of $35.00 per room, per day: Morning Coffee Service, Afternoon Tea, Nightly Movies in the Theatre, Historical Tours and Presentations (Bunker Tours excluded), on-property transportation, Resort-Wide wireless internet connectivity, Cyber Café with Complimentary High-Speed Internet, Champagne Toast in the Casino Club, Culinary Demonstrations, Hiking Trails, use of the resort Fitness Center (at Tennis Center or Indoor Pool), use of the resort's indoor and outdoor pools, local and toll free phone charges and entertainment provided by the Casino Club's Beverage Entertainers. These amenities are subject to change based on seasonality or availability. Bellmen, doormen, and others who render intermittent personal services are not included in the resort fee.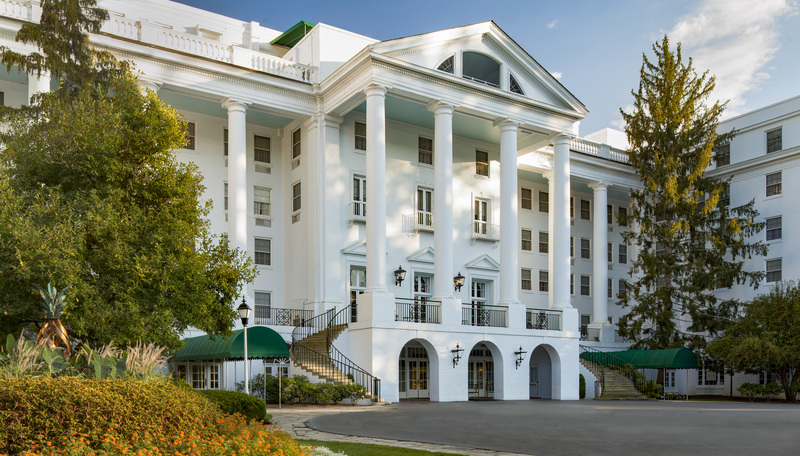 The Greenbrier is located amid the breathtaking mountains of West Virginia and a National Historic Landmark. The natural mineral springs that drew the first guests over 235 years ago continue to lure visitors for a 11,000 acre luxury retreat today. Surrounded by the Allegheny Mountains, The Greenbrier offers exclusive services and amenities such as championship golf, fine dining, more than 55 activities, designer boutiques, our world-renowned mineral spa and a 103,000 square foot gaming and entertainment venue.
The declassified Bunker at The Greenbrier is a must-see experience that takes you behind the scenes and walks you through a fascinating period in the resort's history. Carved deep into the mountainside beneath our West Virginia Wing is an emergency Cold War fallout shelter. Once a top secret U.S. government relocation facility for Congress, Bunker Tours provide a unique and in-depth look behind the hidden doors. Reserve your place in our history today!

The Bunker was featured on The Today Show on June 22, 2018. Click here to watch the segment.
PARKING
Valet Parking, if utilized, is $25.00 per vehicle, per day. Self-parking is complimentary.

Travel and Directions (click here)
Greenbrier Valley Airport (LWB), will be served by SkyWest beginning April 3, 2018. Greenbrier Valley Airport is located only 15 minutes away from The Greenbrier. SkyWest will offer daily flights to and from Chicago O'Hare (ORD) and Washington Dulles (IAD) Airports.
Other airports convenient to The Greenbrier include Roanoke, VA (ROA), Charleston, WV (CRW) and Beckley, WV (BKW) with service provided by major carriers.
AMTRAK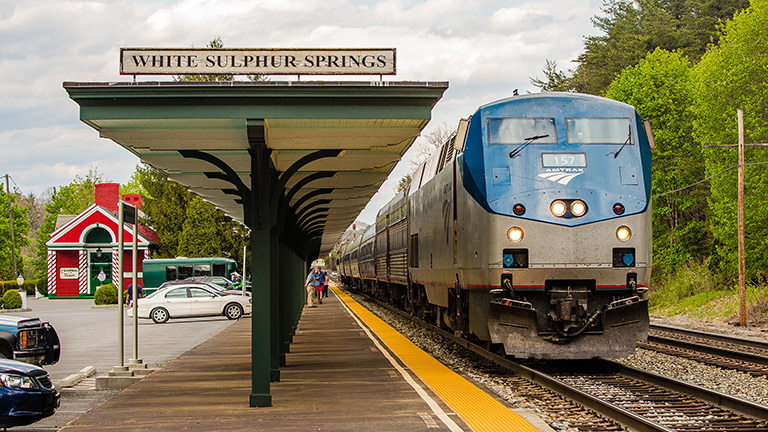 The Greenbrier and Amtrak are proud to introduce Business Class service from Washington D.C. to White Sulphur Springs, WV (WSS), conveniently located next to The Greenbrier's Christmas Shop at The Depot!