Preliminary Content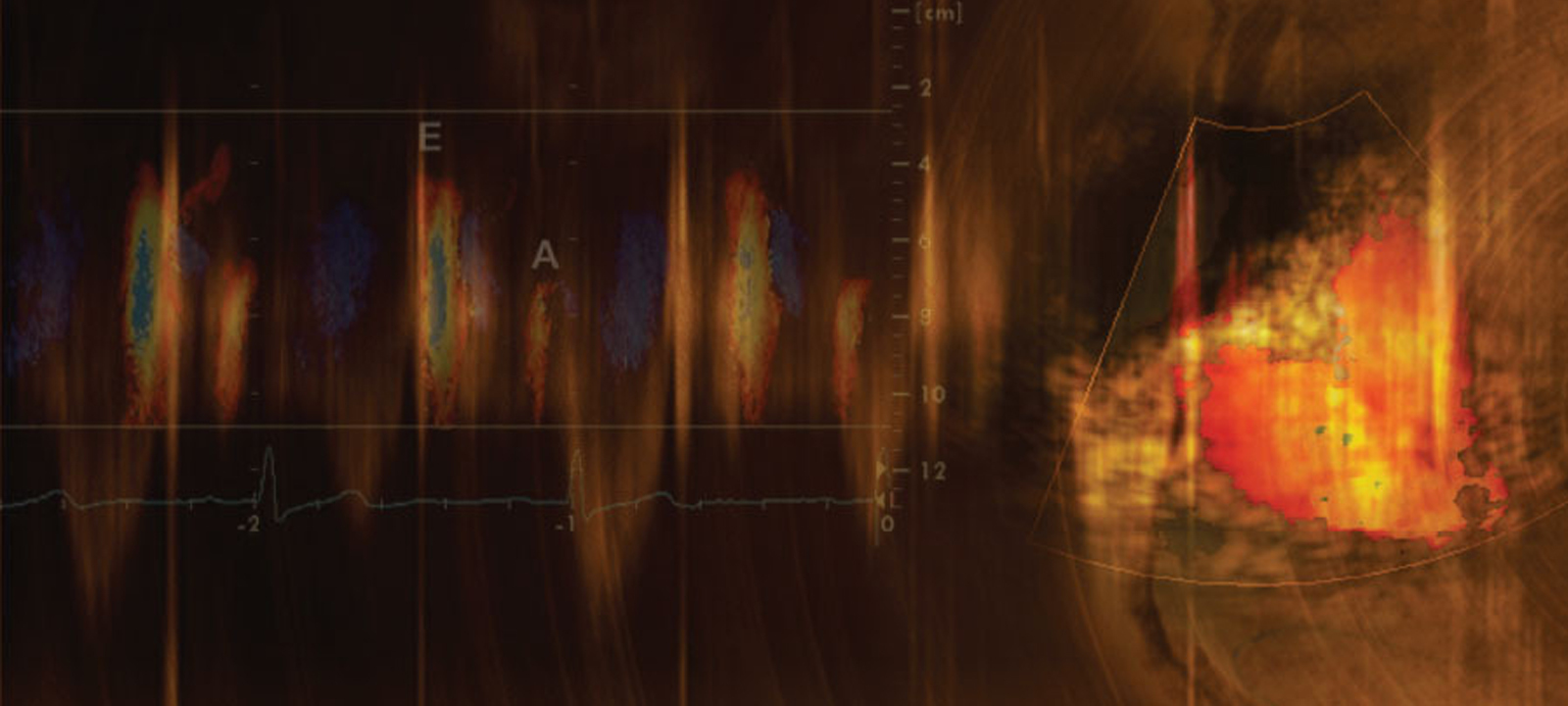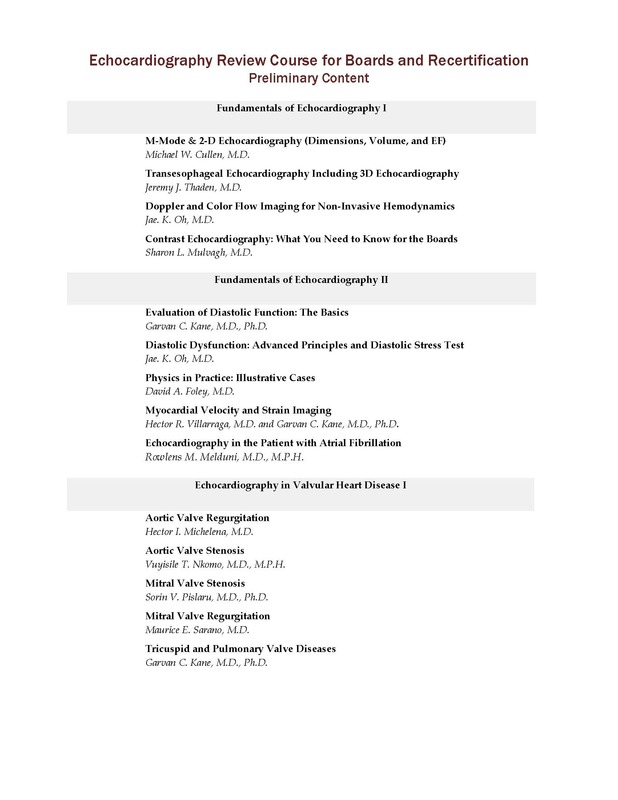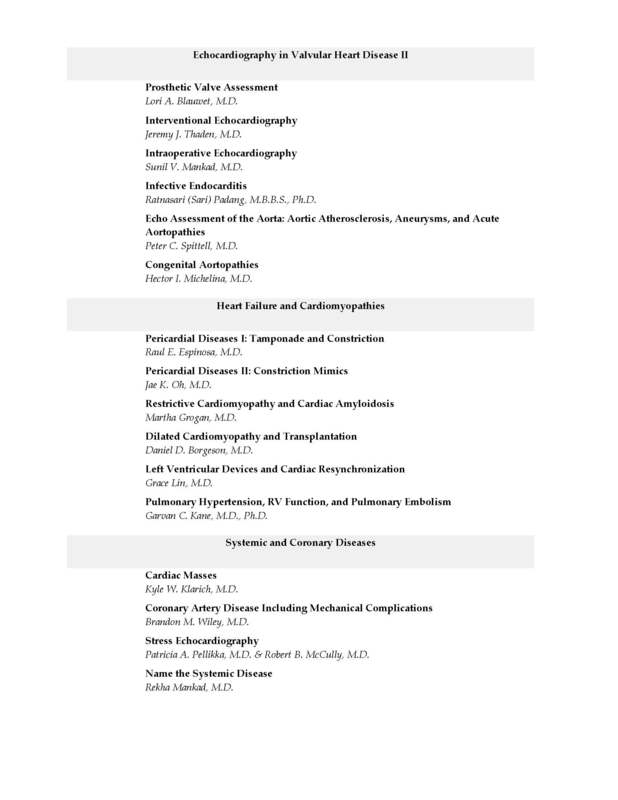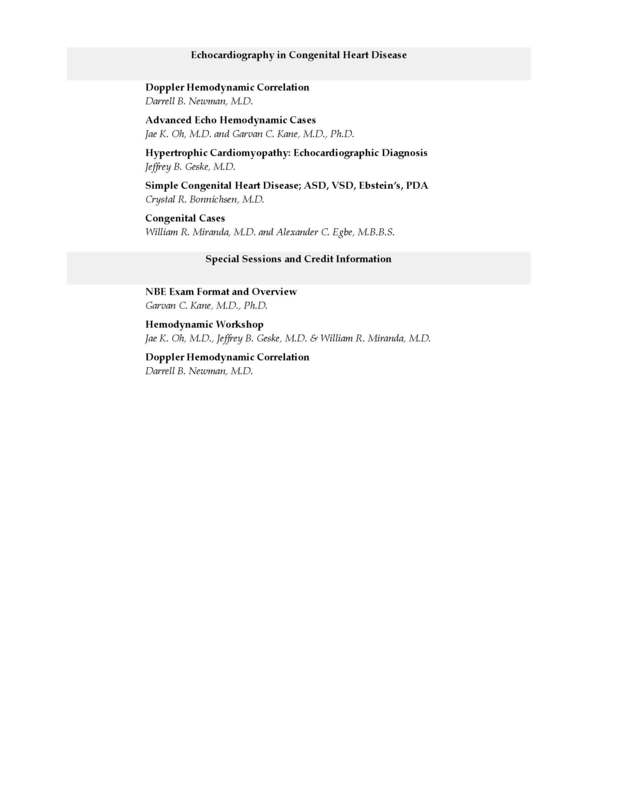 Overview
Mayo Clinic Echocardiography Board Review - Viewable on DVD with Syllabus and Audio Flashdrive.
In your purchase, you received:
XX DVDs with over XX hours of lectures and XXX post-test questions
Printed Syllabus
Audio FlashDrive - These files can be downloaded. Please note that Mayo Clinic CV Education does not provide customer service for this flash drive.
The DVD format comes with XX DVDs and an audio-only flash drive. These audio files can be downloaded and used alongside the printed syllabus, provided in your purchase, for viewing anytime. The DVD format now has a pre-test on the learning portal to identify areas of strength and weakness and then directing their learning with a personalized study guide that concentrates solely on areas where they need reinforcement. It will then direct the learner to the DVD that they need to view. The DVDs only require a post-test upon completion of viewing the DVDs to acquire AMA PRA Category 1 CreditsTM and ABIM MOC Medical Knowledge points. The post-test questions are broke down in modules by DVD and credit can be obtained as you complete each DVD. You will have two years to obtain credit with this product.
Mayo Clinic is not responsible and will not provide technical assistance for your computer, its peripherals, or software, including any other equipment or device not purchased through Mayo Clinic. The views and opinions expressed in this article are those of the authors and do not necessarily reflect the official policy or position of Mayo Clinic.
Content of this course is available for you to view whenever convenient for you. Credit must be claimed by July 11, 2021
Money Back Guarantee
If you are not 100% satisfied with your DVD purchase, please submit a request to cvselfstudy@mayo.edu within 30 days from the date of purchase for a full refund. Only refund requests made within the 30-day window will be granted. Please note that refunds cannot be given if you have already claimed CME credit for the course.
---
COURSE DESCRIPTION
This enduring material is a recording of the Mayo Clinic Echocardiography Review Course for Boards and Recertification (June 9-12, 2018) in DVD format. Physician participation in this activity consists of reviewing the PDF presentations and video and completing the online exam with an 80% pass rate to claim credit. It is estimated that this activity will take XX.XX viewing hours to complete.
Mayo Clinic Echocardiography Review Course is designed to prepare attendees taking the National Board of Echocardiography (NBE) certification examination. It has a focused emphasis on the NBE examination format. This comprehensive enduring course, available on DVD, will give you a personalized and adaptive learning curriculum that is available anytime you want to access it. It gives you the confidence to pass the exam, as it is built out to the ABIM blueprint, and most importantly enables you to bring the most current medical knowledge back to your daily practice. The course focuses on essential review and update on ultrasound principles, valvular heart disease, coronary artery disease, ejection fraction, cardiomyopathies, congenital heart disease, cardiac masses, pericardial disease, and newer applications of echocardiography. The program content will integrate perioperative echo track to meet the needs of learners studying perioperative echo.
Please note: This product is derived from the live board review course. Any references to the pre-test, online modules or portal tools are made in reference to the live course learning experience and are not a part of the DVD offering. Please refer to the DVD Breakdown in your uploaded materials for the content available to you.
COURSE LEARNING OBJECTIVES
Upon conclusion of this program, participants should be able to:
• Explain basic physical principles of ultrasound and instrumentation.
• Correlate cardiac gross pathology with echocardiographic images.
• Evaluate cardiac chamber size, left ventricular systolic and diastolic function, and right ventricular systolic function.
• Analyze and interpret echocardiographic derived hemodynamic data.
• Interpret transesophageal images and distinguish attributes and limitations versus transthoracic echocardiography.
• Evaluate acute and chronic ischemic heart disease using standard and stress echocardiography.
• Diagnose and quantify etiology and severity of native and prosthetic valvular heart disease.
• Distinguish and differentiate causes of heart failure, cardiomyopathies, and pericardial disease.
• Diagnose and differentiate cardiac masses.
• Diagnose and distinguish diseases of the aorta.
• Identify echocardiographic features of systemic disease with associated cardiac involvement.
• Integrate new echocardiographic techniques
Mayo Clinic course does not indicate nor guarantee competence or proficiency in the performance of any procedures which may be discussed or taught in this course.
INTENDED AUDIENCE
This course is intended for participants with working knowledge of echocardiographic techniques and applications (cardiologists, anesthesiologist, cardiac surgeons, fellows in training and cardiac sonographers).
Faculty
Course Directors
Garvan C. Kane MD, PhD
Jae K. Oh, MD
Mayo Clinic Faculty
Courtney E. Bennett, DO
Lori A. Blauwet, MD
Crystal R. Bonnichsen, MD
Daniel D. Borgeson, MD
Heidi M. Connolly, MD
Michael W. Cullen, MD
Alexander C. Egbe, MBBS
Raul E. Espinosa, MD
David A. Foley, MD
Jeffrey B. Geske, MD
Martha Grogan, MD
Kyle W. Klarich, MD
Grace Lin, MD
Robert B. McCully, MD
Rekha Mankad, MD
Sunil V. Mankad, MD
Rowlens M. Melduni, MD, MPH
Hector I. Michelena, MD
William R. Miranda, MD
Darrell B. Newman, MD
Vuyisile T. Nkomo, MD, MPH
Ratnasari (Sari) Padang, MBBS, PhD
Sorin V. Pislaru, MD, PhD
Maurice E. Sarano, MD
Peter C. Spittell, MD
Jeremy J. Thaden, MD
Marysia S. Tweet, MD
Hector R. Villarraga, MD
Brandon M. Wiley, MD

Guest Faculty
Sharon L. Mulvagh, MD
---

FACULTY DISCLOSURE
As a provider accredited by Joint Accreditation Interprofessional Continuing Education, Mayo Clinic College of Medicine and Science (Mayo Clinic School of CPD) must ensure balance, independence, objectivity and scientific rigor in its educational activities. Course Director(s), Planning Committee Members, Faculty, and all others who are in a position to control the content of this educational activity are required to disclose all relevant financial relationships with any commercial interest related to the subject matter of the educational activity. Safeguards against commercial bias have been put in place. Faculty also will disclose any off label and/or investigational use of pharmaceuticals or instruments discussed in their presentation. Disclosure of these relevant financial relationships will be published in activity materials so those participants in the activity may formulate their own judgments regarding the presentation.

NATIONAL PHYSICIAN PAYMENT TRANSPARENCY PROGRAM
Mayo Clinic College of Medicine and Science complies with the requirements of the National Physician Payment Transparency Program OPEN PAYMENTS (Physician Payments Sunshine Act).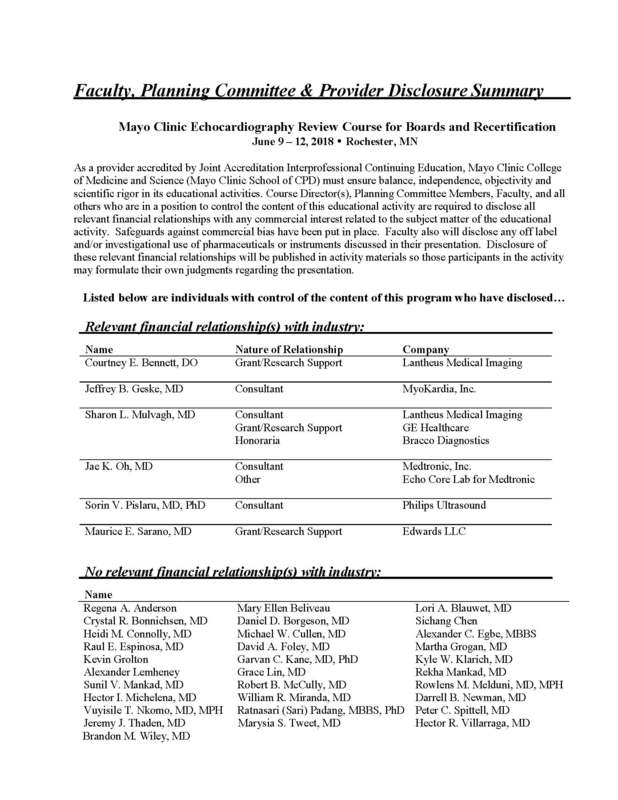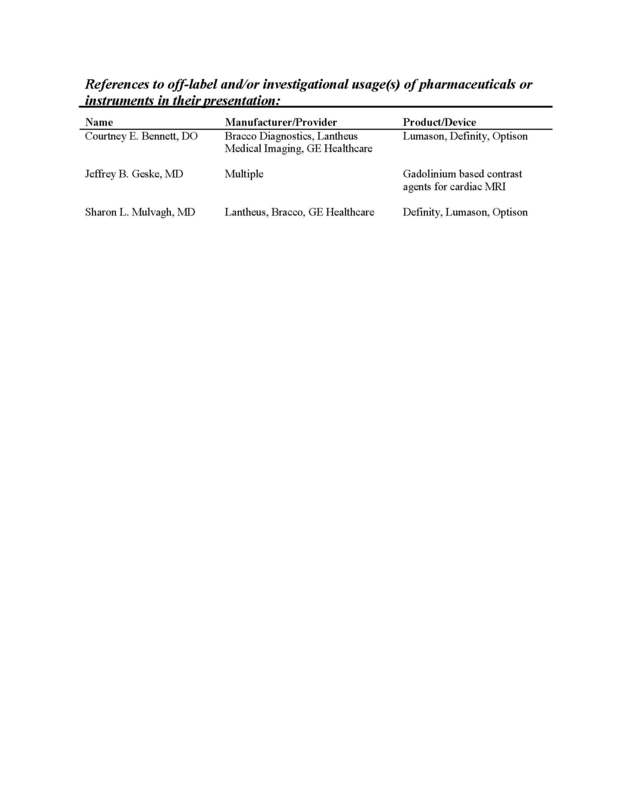 Credit
HOW TO CLAIM CREDIT
In order to obtain CME credit, please go to the following web address: https://cveducation.mayo.edu
Log-in information will be the same username and password you used to purchase the product.
Go to your dashboard
Select the self-study tab
Click on Exam Portal to take the assessment
In the event you cannot remember your password, there is a reset function. If you should have any questions, please phone us at 800-283-6296 or email us at cvselfstudy@mayo.edu. Do not create a new profile.
NOTES
Completing the online assessment is required for AMA PRA Category 1 CreditsTM and makes you eligible for XX.XX ABIM MOC Medical Knowledge points. The assessment is separated into topic modules, may be taken two (2) times, and requires an 80% pass rate.
Credit must be claimed prior to the expiration date of July 11, 2021.
If you obtained credit at the live course, you cannot claim credit again for the same content.
ACCREDITATION STATEMENT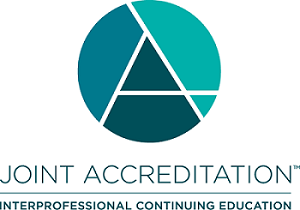 In support of improving patient care, Mayo Clinic College of Medicine and Science is jointly accredited by the Accreditation Council for Continuing Medical Education (ACCME), the Accreditation Council for Pharmacy Education (ACPE), and the American Nurses Credentialing Center (ANCC) to provide continuing education for the healthcare team.



Mayo Clinic College of Medicine and Science designates this enduring material for a maximum of XX.XX AMA PRA Category 1 CreditsTM. Physicians should only claim credit commensurate with the extent of their participation in the activity.
For disclosure information regarding Mayo Clinic School of Continuous Professional Development accreditation review committee member(s), please go here.

ABIM MOC STATEMENT

Successful completion of this CME enduring material, which includes participation in the evaluation component, enables the participant to earn up to XX.XX MOC points in the American Board of Internal Medicine's (ABIM) and Maintenance of Certification (MOC) program. Participants will earn MOC points equivalent to the amount of CME credits claimed for the activity. It is the CME activity provider's responsibility to submit participant completion information to ACCME for the purpose of granting ABIM MOC credit.
Pricing
| | |
| --- | --- |
| DVD with Printed Syllabus | $1395 |

DVD PROFILE
This enduring material is a recording of the Mayo Clinic Echocardiography Review Course for Boards and Recertification (June 9-12, 2018) in DVD format. Physician participation in this activity consists of reviewing the PDF presentations and DVDs and completing the evaluation and exam with an 80% pass rate to claim credit. It is estimated that this activity will take XX.XX viewing hours to complete.
Date of Original Release: July 12, 2018
Date of Credit Expiration: July 11, 2021
Duration/Completion Time: XX.XX hours
RETURN POLICY
Mayo Clinic Cardiovascular Education Department will accept returns under the following circumstances:
The product (or certain discs within the product) is defective. This may occur (although rarely) due to a defective disc or a technical glitch during the duplication process. Defective products must be reported within 30 days of purchase.
Customer is not responsible for shipping and handling of replacement products, and may be required to return the defective product(s) before the replacement can be sent.
Product was not shipped within 48 hours after the order was placed, business days only. Additional time required for orders placed on non-business days.
The product(s) can be returned for any reason if it is unopened (the seal must be intact or the item must be shrink wrapped) and within 30 days of purchase for a full refund minus a $75.00 restocking fee. The customer is responsible for return shipping fees and is not refunded initial shipping costs.
If product was damaged during shipment, contact UPS for damaged package:claims: http://www.ups.com/content/us/en/resources/service/claims/hlp/damage_process.html
**Please note that refunds cannot be given if you have already claimed CME or MOC credit for the course.
NOTES
Mayo Clinic Cardiovascular Education Department is not responsible if the delay in the shipment was due to the customer providing the incorrect shipping address, weather, or was the fault of the shipper.
CME credit cannot be granted on the portion of the purchase that is returned.
CUSTOMER SERVICE
If you need to make a return due to DVD functionality or technical issues, please see contact information below for assistance:
Phone: 1-800-283-6296, Ext. 2
Email: cvselfstudy@mayo.edu
Please provide the following information:
Your name
Your order number (listed on confirmation email or packing list)
Product name and a brief description of the problem you are experiencing
If you have questions on how to obtain credit, please phone us at 800-283-6296 or email us at cvselfstudy@mayo.edu.
DISCLAIMER
This information is made available by Mayo Clinic for educational purposes only. The material is not medical advice and is not intended to represent the only, or best, methods or procedures appropriate for the medical situation discussed; rather is intended to present an approach, view, statement or opinion of the presenters that may be helpful or of interest to other practitioners. Procedures, products or instrumentation systems used, discussed and/or demonstrated may be experimental and may not have yet received FDA approval.
All rights reserved. You may not copy, distribute, broadcast, sell, edit, create new works from, or publically perform or display course materials without the permission of Mayo Clinic.