Overview
Content of this course is available for 365 days from your date of purchase. Credit and MOC must be claimed within that period.
Money Back Guarantee
If you are not 100% satisfied with your online course subscription, please submit a request to cvselfstudy@mayo.edu within 30 days from the date of purchase for a full refund. Only refund requests made within the 30-day window will be granted. Please note that refunds cannot be given if you have already claimed CME or MOC credit for the course.
---
COURSE DESCRIPTION
Mayo Clinic Online Interventional Cardiology Master Class is designed for those who want to stay on top of established evidence and guidelines in Interventional Cardiology. This comprehensive online course will give you a personalized and adaptive online learning curriculum that will save study time, give you confidence to pass the exam, and most importantly enable you to bring the most current medical knowledge back to your daily practice.
THIS COURSE OFFERS
Superior content from Mayo Clinic faculty: World-class experts in Interventional Cardiology give in-depth didactics on state-of-the-art subjects with content presented in a variety of engaging formats.
Personalized learning experience: Physicians can test their relative knowledge vs. peers and identify personal knowledge gaps via a private self-assessment. The results then inform a personalized curriculum unique to your specific needs.
An efficient study plan focused on those areas you need the most: No users' study guide is the same. While all course material is available on the personalized platform for your review, your pre-test results drive the identification of individual knowledge gaps that then dynamically build a personalized study guide with content just for you. This enables you to focus on what is most relevant to achieving mastery, saving you time and frustration.
Better retention and mastery of content: On average, physicians who completed this online course curriculum achieved a 21-point increase in knowledge demonstrated by the lift in scores from pre- to post-test. For those preparing for board exams this a confidence booster and greatly reduces anxiety.
Easily accessible anywhere, anytime: The entire curriculum is available anywhere you have an internet connection, and accessible on both computers and mobile devices. We enable you to fit learning into your work/life instead of the other way around.
CME and MOC credits while preparing for your boards: Submission of the mock board examination post-test with a score of 80% or higher makes you eligible for

18.5 AMA PRA Category 1 Credits™ and 18.5 ABIM MOC Medical Knowledge points.



COURSE LEARNING OBJECTIVES
Upon conclusion of this program, participants should be able to:
Discuss the "reperfusion dilemma" faced by patients who present to non-primary PCI hospitals;

Identify factors that influence revascularization strategies and outcomes in ACS;

Determine indications and appropriate use of anticoagulant therapy in patients undergoing PCI;

Identify the mechanisms of action for recommended classes of antiplatelet therapy with coronary indications;

Recall the indications for IVUS and OCT for quantifying plaque burden, plaque composition, non atherosclerotic pathology, and assessing stent deployment;

Recognize factors that influence patient selection and outcomes from TAVR and manage complications appropriately;

Estimate the utility of invasive and non-invasive imaging for clinical decision-making in structural heart disease.
Attendance at this Mayo Clinic course does not indicate nor guarantee competence or proficiency in the performance of any procedures which may be discussed or taught in this course.
INTENDED AUDIENCE
This course is primarily intended for cardiologists and cardiovascular fellows and other trainees.
Content
The Basics
Drugs You Need to Know
Eric H. Yang, M.D.
Radiation Physics, Imaging, Risks, and Safety
Malcolm R. Bell, M.D.
Contrast and Consequences
Patricia J.M. Best, M.D.
Medical Statistics: Pearls for the Boards
Charanjit S. Rihal, M.D.
Panel Questions
Drs. Yang, Bell, Best, and Rihal
Antithrombotic Therapy
Anticoagulant Therapy: The Basics
Robert D. McBane, M.D. and Malcolm R. Bell, M.D.
Anti-Platelet Therapy: The Basics
Robert D. McBane, M.D. and Malcolm R. Bell, M.D.
Bleeding Risks and Avoidance Strategies
Mandeep Singh, M.D.
Panel Questions
Drs. McBane, Bell, and Singh
Pathophysiology and Assessment of Atherosclerosis
Anatomic Variants and Pathology
Joseph J. Maleszewski, M.D. and Naser M. Ammash, M.D.
Intracoronary Imaging: Plaque Characterization, Quantification, and Imaging for PCI
Eric H. Yang, M.D.
Intracoronary Physiology: Endothelial Function, FFR, and CFR
Amir Lerman, M.D.
Pathophysiology of Stable and Unstable Coronary Syndromes
Joerg Herrmann, M.D.
Panel Questions
Drs. Ammash, Yang, Lerman, and Herrmann
PCI: Risk Assessment and Reduction
Management and Appropriate Use Criteria for Stable Ischemic Coronary Disease
Joerg Herrmann, M.D.
Invasive Strategies in Non STE-ACS
Gregory W. Barsness, M.D.
Reperfusion Therapies in STEMI
Eric H. Yang, M.D.
Panel Questions
Drs. Herrmann and Barsness
Management of Cardiogenic Shock
Gurpreet S. Sandhu, M.D., Ph.D.
Transradial PCI
Rajiv Gulati, M.D., Ph.D.
Device Selection
Gurpreet S. Sandhu, M.D., Ph.D.
Panel Questions
Drs. Gharacholou, Gulati, Sandhu, and Yang
Case-Based Management of Select Patient and Lesion Subsets
Left Main and Bifurcation Disease
S. Michael Gharacholou, M.D.
Chronic Total Occlusions
Gurpreet S. Sandhu, M.D., Ph.D.
Saphenous Vein Grafts
Gregory W. Barsness, M.D.
Restenosis and Stent Thrombosis: Key Points for the Boards
Joerg Herrmann, M.D.
Complications of PCI and Their Management
Drs. Gharacholou, Gulati, Sandhu, and Yang
Peripheral Arterial Disease and Interventions
Application of Imaging in Carotid Artery Disease and Interventions: CT, MR, and Ultrasound
Waleed Brinjikji, M.D.
Carotid Artery Disease and Interventions
Rajiv Gulati, M.D., Ph.D.
Application of Imaging in Peripheral Arterial Disease CT, MR, and Ultrasound
Waleed Brinjikji, M.D.
Peripheral Arterial Disease and Interventions
Gregory W. Barsness, M.D.
Structural Heart Disease
Percutaneous Management of Atrial Septic Defect, Patent Foramen Ovale, and Ventricular Septal Defect
Guy S. Reeder, M.D.
Percutaneous Management of Tricuspid Valve, Pulmonic Valve, and Coarctation of the Aorta
Donald J. Hagler, M.D.
Left Atrial Appendage Closure
Thomas M. Munger, M.D.
Septal Ablation for Hypertrophic Cardiomyopathy
Charanjit S. Rihal, M.D.
Mitral Valve Interventions
Guy S. Reeder, M.D.
Transcatheter Aortic Valve Replacement
Charanjit S. Rihal, M.D.
Panel Questions
Drs. Reeder, Munger, and Rihal
Recertification Panel
Drs. Barsness and Yang
Faculty
COURSE DIRECTORS
Gregory W. Barsness, M.D.
Rajiv Gulati, M.D., Ph.D.
Eric H. Yang, M.D.
MAYO FACULTY
Naser M. Ammash, M.D.
Malcolm R. Bell, M.B, B.S.
Patricia J.M. Best, M.D.
Michael M. Gharacholou, M.D.
Rajiv Gulati, M.D., Ph.D.
Donald Hagler, M.D.
Joerg Herrmann, M.D.
Amir Lerman, M.D.
Robert D. McBane, M.D.
Thomas M. Munger. M.D.
Joseph J. Maleszewski, M.D.
Guy S. Reeder, M.D.
Charanjit S. Rihal, M.D.
Gurpreet S. Sandhu, M.D., Ph.D.
Mandeep Singh, M.D.
---
FACULTY DISCLOSURE
As a provider accredited by ACCME, Mayo Clinic College of Medicine (Mayo School of Continuous Professional Development) must ensure balance, independence, objectivity and scientific rigor in its educational activities. Course director(s), planning committee, faculty, and all others who are in a position to control the content of this educational activity are required to disclose all relevant financial relationships with any commercial interest related to the subject matter of the educational activity. Safeguards against commercial bias have been put in place. Faculty also will disclose any off-label and/or investigational use of pharmaceuticals or instruments discussed in their presentation. Disclosure of this information will be published in course materials so those participants in the activity may formulate their own judgments regarding the presentation.
NATIONAL PHYSICIAN PAYMENT TRANSPARENCY PROGRAM
Mayo Clinic College of Medicine complies with the requirements of the National Physician Payment Transparency Program OPEN PAYMENTS (Physician Payments Sunshine Act).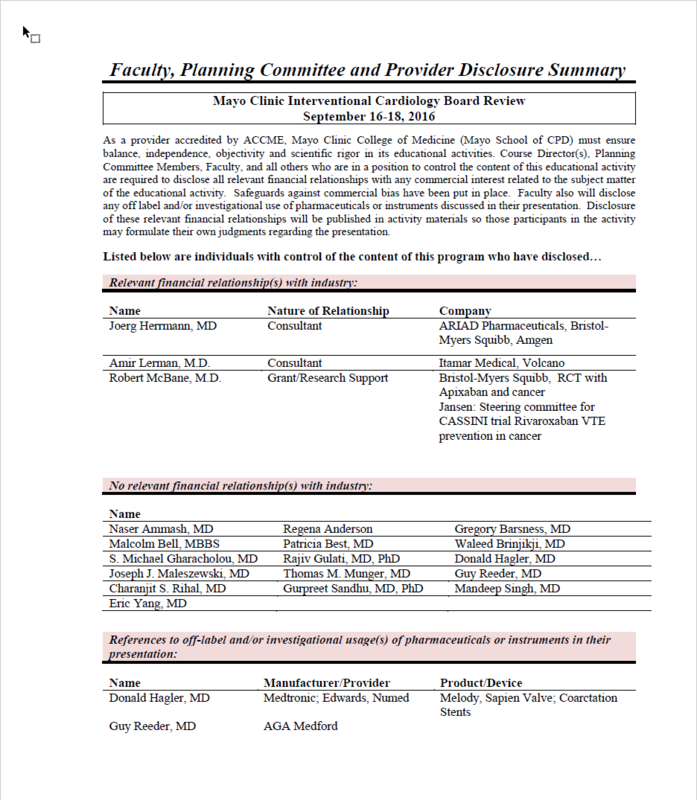 Credit
HOW TO CLAIM CREDIT
In order to obtain CME credit, please go to the following web address: https://cveducation.mayo.edu
Log-in information will be the same username and password you used to purchase the product.
In the event you cannot remember your password, there is a reset function. If you should have any questions, please phone us at 800-283-6296 or email us at cvselfstudy@mayo.edu.
NOTES
Completing the online assessment is required for AMA PRA Category 1 Credits™. The assessment may be taken two (2) times and requires an 80% pass rate.
Credit must be claimed prior to the expiration date of one year from date of purchase.
If you obtained credit at the live course, you cannot claim credit again for the same content.
ACCREDITATION STATEMENT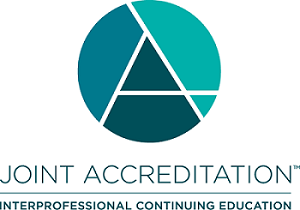 In support of improving patient care, Mayo Clinic College of Medicine and Science is jointly accredited by the Accreditation Council for Continuing Medical Education (ACCME), the Accreditation Council for Pharmacy Education (ACPE), and the American Nurses Credentialing Center (ANCC) to provide continuing education for the healthcare team.

Mayo Clinic College of Medicine and Science designates this enduring material for a maximum of 18.50 AMA PRA Category 1 CreditsTM. Physicians should only claim credit commensurate with the extent of their participation in the activity.
ABIM MOC STATEMENT
"Successful completion of this CME enduring material which includes participation in the evaluation component, enables the participant to earn up to 18.50 MOC points in the American Board of Internal Medicine's (ABIM) Maintenance of Certification (MOC) program. Participants will earn MOC points equivalent to the amount of CME credits claimed for the activity. It is the CME activity provider's responsibility to submit participant completion information to ACCME for the purpose of granting ABIM MOC credit."
Pricing
| | |
| --- | --- |
| Streaming Video and Online Content via the Learning Portal | $1195 |
**Available for use in Chrome and Safari Internet Browsers Only**
This enduring material is a recording of the Mayo Interventional Cardiology Review Course for Boards and Recertification course in streaming video and pdf format. Physician participation in this activity consists of reviewing the videos and completing the evaluation and exam. It is estimated that this activity will take18.50 viewing hours to complete.
Date of Original Release: September 29, 2016
Date Credit Expires for this program: One Year From Date of Purchase
Duration/Completion Time: 18.50
Hardware/Software Required: Computer or Device with video streaming capabilities via internet connection
DISCLAIMER
This information is made available by Mayo Clinic for educational purposes only. The material is not medical advice and is not intended to represent the only, or best, methods or procedures appropriate for the medical situation discussed; rather is intended to present an approach, view, statement or opinion of the presenters that may be helpful or of interest to other practitioners. Procedures, products or instrumentation systems used, discussed and/or demonstrated may be experimental and may not have yet received FDA approval.
All rights reserved. You may not copy, distribute, broadcast, sell, edit, create new works from, or publically perform or display course materials without the permission of Mayo Clinic.