Overview
Content of this course is available for you to view whenever convenient for you. Credit must be claimed by August 24, 2018.
COURSE DESCRIPTION
This enduring material is a recording of the Mayo Electrophysiology Review Course for Boards and Recertification (August 13-15, 2016). This course will provide the cardiologist and electrophysiologist with an overview of all aspects of cardiovascular electrophysiology. Experts in each field will give in-depth didactics on all pertinent aspects of arrhythmia and device management. Although this material is designed specifically to prepare the heart rhythm specialist for the electrophysiology boards or recertification, it also aims to provide the clinician with an update on current best practices and advances in arrhythmia management. The full spectrum of electrophysiology will be reviewed: ranging from basic arrhythmia mechanisms and pharmacology, to catheter diagnosis and therapy, and device-based treatments. There are also dedicated cardiac anatomy sessions and careful review of the key maneuvers for arrhythmia diagnosis in the EP lab.
Please note: References made to things available on your portal or dashboard only pertain to live course attendees, and not all content presented at the live course is presented in the DVD format. This is a result in the change of credits offered. Please refer to the DVD breakdown in your uploaded materials for the content available to you.
COURSE LEARNING OBJECTIVES
Upon completion of this program, participants should be able to:
Apply 3-D mapping techniques to distinguish between reentrant vs. focal mechanisms of VT;
Develop evidence-based approaches for atrial fibrillation ablation;
Identify the EP characteristics of cardiac impulse propagation, including anisotropy, cable theory, and spiral/scroll conduction;
Select and appropriately utilize maneuvers to differentiate AVNRT from JT and ORT in the EP lab;
Recognize the indications for ILR, tilt-testing, and ambulatory monitoring in patients with syncope;
Distinguish the clinical principles and theory of defibrillation and cardic resynchronization;
Describe the molecular basis of the action potential of the human heart;
Recognize the pharmacokinetic properties of antiarrhythmic drugs, including use dependence;
Recognize and describe the basic mechanisms of common LQTS, Brugada, short-QT, and J-wave syndromes;
Formulate management approaches to the arrhythmia syndromes in congenital heart disease, sarcoid, and ARVD.
Mayo Clinic course does not indicate nor guarantee competence or proficiency in the performance of any procedures which may be discussed or taught in this course.
INTENDED AUDIENCE
This course is intended for cardiologists, electrophysiologists, cardiovascular fellows, electrophysiology fellows, and all practitioners involved in the care of complex arrhythmia patients in the outpatient and laboratory settings.
Content
DVD 1
Atrial Fibrillation: Concepts, Pathophysiology and Disease Associations
Suraj Kapa, M.D.
Transeptal
Suraj Kapa, M.D.
Epicardial Access
Thomas M. Munger, M.D.
AT and Atrial Flutter: Mapping and Ablation
William G. Stevenson, M.D.
Entrainment and Catheter Ablation of VT in Structural Heart Disease
William G. Stevenson, M.D.
DVD 2
VT Syndromes – ARVD, Outflow Tract, BBR, ILV-VT
Komandoor Srivathsan, M.D.
Atrial Arrhythmia Cases
Malini Madhavan, M.B.B.S.
Non-Ablative Therapy for Atrial Fibrillation
Christopher J. McLeod, M.B., Ch.B., Ph.D.
VT Workshop of Unknown Cases
John M. Miller, M.D.
DVD 3
Ablation Complications
Thomas M. Munger, M.D.
LA Appendage Closure
Thomas M. Munger, M.D.
Understanding Basic Arrhythmogenesis
William G. Stevenson, M.D.
Clinical EP Basics: Electrogram Recording, Mapping, and Ablation Biophysics
John M. Miller, M.D.
SVT I: Accessory Pathway-Related Tachycardias
Samuel J. Asirvatham, M.D.
DVD 4
AVNRT
Samuel J. Asirvatham, M.D.
SVT Cases in the EP Lab: When Maneuvers Can Help
Samuel J. Asirvatham, M.D.
SVT Unknowns
John M. Miller, M.D. and Siva K. Mulpuru, M.D.
CT/MRI for the Electrophysiologist
Phillip M. Young, M.D.
DVD 5
Syncope
K. L. Venkatachalam, M.D.
Special Circumstances (Congenital, Pregnancy, Transplant, LVAD, Athletes, HCM and Sarcoid)
Christopher J. McLeod, M.B., Ch.B., Ph.D.
Pacemaker Basics
Raul E. Espinosa, M.D.
DVD 6
Principles of ICD and CRT
Siva K. Mulpuru, M.D.
Pacemaker/ CRT Troubleshooting
Charles D. Swerdlow, M.D.
Sub Q ICD Case
Yong-Mei Cha, M.D.
Device Workshop I
David J. Bradley, M.D., Ph.D. and Charles D. Swerdlow, M.D.
Leadless Pacemaker
Yong-Mei Cha, M.D.
DVD 7
Device Workshop II
Yong-Mei Cha, M.D. and Charles D. Swerdlow, M.D.
Understanding the Cardiac Action Potential of the Human Heart
Michael J. Ackerman, M.D., Ph.D.
Pharmacokinetics, Dynamics and Clinical EP of Antiarrhythmic Drugs
Peter A. Noseworthy, M.D.
The Cardiac Channelopathies
Michael J. Ackerman, M.D., Ph.D.
DVD 8
Live Case: VT Ablation
Samuel J. Asirvatham, M.D. and Suraj Kapa, M.D.
Pulmonary Vein Isolation: Intracardiac Echocardiography Tutorial
Douglas L. Packer, M.D. and Thomas M. Munger, M.D.
Anatomy for the Electrophysiologist: Dissections
Samuel J. Asirvatham, M.D.
Faculty
Course Directors
Thomas Munger, MD
Christopher McLeod, MB, ChB, PhD

Mayo Clinic Faculty
Michael Ackerman, MD, PhD
Samuel Asirvatham, MD
David Bradley, MD, PhD
Yong-Mei Cha, MD
Raul Espinosa, MD
Suraj Kapa, MD
Nirusha Lachman, PhD
Hon-Chi Lee, MD, PhD
Malini Madhavan, MBBS
Siva Mulpuru, MD
Peter Noseworthy, MD
Douglas Packer, MD
Win-Kuang Shen, MD
Komandoor Srivathsan, MD
K. L. Venkatachalam, MD
Phillip Young, MD

Guest Faculty
John Miller, MD
William Stevenson, MD
Charles Swerdlow, MD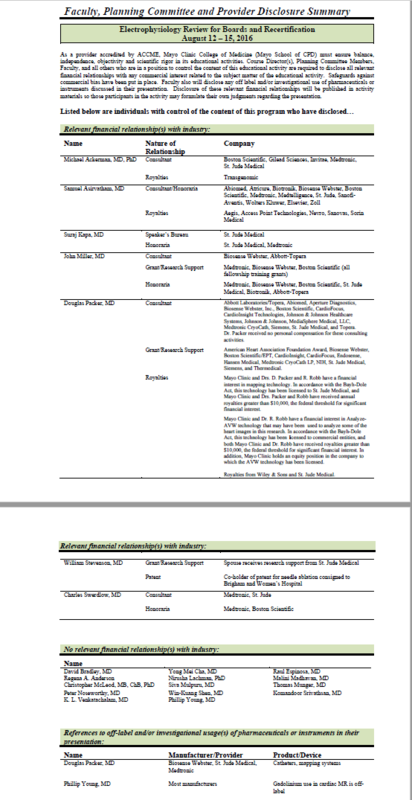 Credit
HOW TO CLAIM CREDIT
In order to obtain CME credit, please go to the following web address: https://cveducation.mayo.edu
Log-in information will be the same username and password you used to purchase the product.
Go to your dashboard
Select the self-study tab
Click on Exam Portal to take the assessment
In the event you cannot remember your password, there is a reset function. If you should have any questions, please phone us at 800-283-6296 or email us at cvselfstudy@mayo.edu. Do not create a new profile.
NOTES
Completing the online assessment is required for AMA PRA Category 1 Credits™ and makes you eligible for 27.00 ABIM MOC Medical Knowledge points. The assessment may be taken two (2) times and requires an 80% pass rate.
Credit must be claimed prior to the expiration date of August 24, 2018.
If you obtained credit at the live course, you cannot claim credit again for the same content.
ACCREDITATION STATEMENT
Mayo Clinic College of Medicine and Science is accredited by the Accreditation Council for Continuing Medical Education (ACCME) to provide continuing medical education for physicians.
Mayo Clinic College of Medicine and Science designates this enduring material for a maximum of 27.00 AMA PRA Category 1 CreditsTM. Physicians should only claim credit commensurate with the extent of their participation in the activity.

ABIM MOC STATEMENT
Successful completion of this CME enduring material which includes participation in the evaluation component, enables the participant to earn up to 27.00 MOC points in the American Board of Internal Medicine's (ABIM) Maintenance of Certification (MOC) program. Participants will earn MOC points equivalent to the amount of CME credits claimed for the activity. It is the CME activity provider's responsibility to submit participant completion information to ACCME for the purpose of granting ABIM MOC credit.
Pricing
| | |
| --- | --- |
| DVD with Printed Syllabus | $1295 |
DVD PROFILE
This enduring material is a recording of the Mayo Electrophysiology Review Course for Boards and Recertification (August 13-15, 2016). Physician participation in this activity consists of reviewing the pdf presentations and video and completing the online exam with an 80% pass rate to claim credit. It is estimated that this activity will take 27.00 viewing hours to complete. Mayo Electrophysiology Review Course for Boards and Recertification is specifically designed to prepare electrophysiologist specialist for the Electrophysiology Boards Exam as well as provide the cardiologist or practicing electrophysiologist with the latest knowledge and advances in electrophysiology.
Date of Original Release: August 25, 2016
Date of Expiration: August 25, 2018
Duration/Completion Time: 27.00 hours
Money Back Guarantee:
If for any reason you don't pass the recertification board review, please submit a request to cvselfstudy@mayo.edu within 60 days from the receipt of results and a refund will be given to you for 100% of the purchase price. Please note that refunds cannot be given if you have already claimed CME or MOC credit for the course.

Return Policy:
Mayo Clinic Cardiovascular Education Department will accept returns under the following circumstances:
- The product (or certain discs within the product) is defective. This may occur (although rarely) due to a defective disc or a technical glitch during the duplication process. Defective products must be reported within 90 days of purchase. Customer is not responsible for shipping and handling of replacement products, and may be required to return the defective product(s) before the replacement can be sent.
- Product was not shipped within 48 hours after the order was placed, business days only. Additional time required for orders placed on non-business days.
- The product(s) can be returned for any reason if it is unopened (the seal must be intact or the item must be shrink wrapped) and within 60 days of purchase for a full refund minus a $75.00 restocking fee. The customer is responsible for return shipping fees and is not refunded initial shipping costs.
If product was damaged during shipment, contact UPS for damaged package: claims: http://www.ups.com/content/us/en/resources/service/claims/hlp/damage process.html
**Please note that refunds cannot be given if you have already claimed CME or MOC credit for the course.
NOTES
Mayo Clinic Cardiovascular Education Department is not responsible if the delay in the shipment was due to the customer providing the incorrect shipping address, weather, or was the fault of the shipper.
CUSTOMER SERVICE
If you need to make a return, please call the number below for instructions for returning the product.
Phone: 1-800-695-5200
Email: cvselfstudy@mayo.edu
Please provide the following information:
Your name
Your order number (listed on confirmation email or packing list)
Product name
DISCLAIMER
This information is made available by Mayo Clinic for educational purposes only. The material is not medical advice and is not intended to represent the only, or best, methods or procedures appropriate for the medical situation discussed; rather is intended to present an approach, view, statement or opinion of the presenters that may be helpful or of interest to other practitionersS. Procedures, products or instrumentation systems used, discussed and/or demonstrated may be experimental and may not have yet received FDA approval. All rights reserved. You may not copy, distribute, broadcast, sell, edit, create new works from, or publically perform or display course materials without the permission of Mayo Clinic.