Bio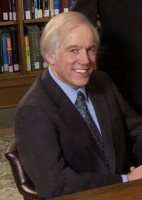 Raymond J. Gibbons, M.D., F.A.C.C., F.A.H.A.

Arthur M. and Gladys D. Gray Professor in Honor of Dr. Howard A. Andersen
Consultant in Department of Cardiovascular Medicine
Professor of Medicine, College of Medicine
Dr. Raymond Gibbons was born in New York City and grew up in northern New Jersey. He obtained a B.S.E. in Aerospace and Mechanical Sciences from Princeton University, where he was valedictorian of his class. He completed a M.Sc. in Mathematics at New College, Oxford University, where he studied on a Rhodes scholarship. After a year of graduate work in biomedical engineering at Johns Hopkins University, he completed his M.D. at Harvard Medical School, where he was a member of the Harvard-M.I.T. Program in Health Sciences and Technology. He then completed a residency in internal medicine at Massachusetts General Hospital and a cardiology fellowship at Duke University Medical Center.
In 1981, he joined the cardiology staff at the Mayo Clinic. From 1981 to 2005, he served as Co-Director of the Nuclear Cardiology Laboratory. In 1997, he was named the Arthur M. and Gladys D. Gray Professor of Medicine at Mayo Clinic College of Medicine.
He has held numerous leadership positions in both the American College of Cardiology (ACC) and the American Heart Association (AHA). Within the ACC, he served as Chair of the Imaging Committee, Chair of the Guidelines Applied in Practice (GAP) Steering Committee, and a member of the ACC Board of Trustees. He chaired two ACC-AHA guideline writing committees (stable angina and exercise testing), and was Chair of the ACC-AHA Task Force on Practice Guidelines. Within the AHA, he served as Chair of the Committee on Scientific Sessions (2003 and 2004), and was President of the AHA from 2006 to 2007. He is currently Chair of the AHA Conflict of Interest Committee.
He has received numerous Mayo teaching awards in both Internal Medicine and Cardiovascular Diseases. He received the Distinguished Fellowship Award from the ACC in 2004. He received the Gold Heart award from the AHA in 2010.
In recent years he has focused on reviews of the scientific evidence in topics related to coronary artery disease and their policy implications. He continues to investigate long-term trends in stress testing, and issues of appropriateness. He enjoys spending time with his three grown children and six grandchildren, and enjoys swimming and fishing at his second home on Oak Island in North Carolina.