Overview
The ability to present and assess cardiac morphology, pathology and function in three dimensions represents a major technologic advance in the field of echocardiography. Three-dimensional echocardiography is very useful in assessing complex pathology. Additionally, three-dimensional echocardiography has emerged as an indispensable tool for the planning and guiding of surgical and catheter based mitral procedures.
Objectives
Associate basic principles of 3D echocardiography
Associate 3D acquisition techniques and image optimization tools
Describe the pitfalls and limitations of 3D echocardiographic imaging
Associate the applications of 3D echocardiographic imaging
Describe the differences and advantages of 3D echo compared to standard 2D echocardiographic imaging.
Faculty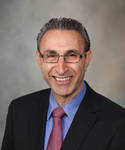 Joseph F. Maalouf, M.D., FACC, FAHA, FASE
Professor of Medicine
Director, Interventional Echocardiography
Department of Cardiovascular Diseases
Mayo Clinic, Rochester, MN
Pricing
$40 - Streaming Video
$50 - Streaming Video and DVD